Bear Creek has a Practice and Learning Center that includes a Practice Range, Short Game Area, and 2 Putting Greens.
*The range closes at sunset each day (you must be done hitting your last practice ball at this time) and balls are sold until about 30 minutes before sunset. On Tuesdays, the Practice & Learning Center closes one hour before sunset for maintenance and open one hour later on Wednesday mornings. The putting greens remain open until sunset every day.
*Hours may vary by day based on additional maintenance needs. Contact the Golf Shop for the most up to date information*
Individual bucket prices (includes sales tax):
Small: 30 balls for $6
Medium: 60 balls for $10
Large: 90 balls for $13
Players who wish to use the Practice Range and Short Game Area must purchase their practice balls beforehand in the Golf Shop. Range balls and baskets may not be removed or taken home from the practice area for ANY reason, violators may be prosecuted!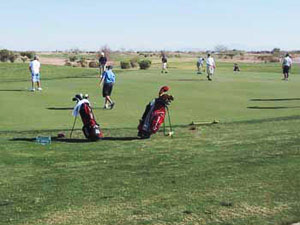 Like to practice? Take advantage of volume pricing with a Range Ball Package! Hit as many or as few buckets at one time as you like. Share with family or friends. Never expires! The golf shop will keep track of how many balls are left in your range package.
Balls are dispensed in measures of 30 balls (small = 30, medium = 60, large = 90) up to the package quantity:
Silver Package – $66 for 540 balls – Save over 16% off individual bucket prices
Gold Package – $109 for 1,080 balls – Save over 25% off individual bucket prices
Platinum Package – $179 for 2,160 balls – Save over 37% off individual bucket prices
Click here to purchase from online store.
The Short Game Area is located on the west side of the Practice Range, and has a large green and a bunker. Players may hit chips, pitches up to 30-40 yards, and greenside sand shots in this area only. Players using the Short Game Area do so at their own risk. Please be aware of other golfers who may be practicing at the same time.
Two Practice Greens are available for putting. The largest green is just north of the Practice Range, and a smaller green is located by the first tee of the Cub Course. These greens are for PUTTING ONLY. Please use the Short Game Area to practice chipping and pitching.
The Practice Range features all grass hitting stations. The Practice Range has an area for the general public, and a separate teeing area reserved for use by authorized groups and for individual and group lessons given by the Bear Creek Golf Academy Professional Staff. When utilizing the Practice Range, please hit from the stations designated by white boards only. Do NOT remove range balls or baskets from the Bear Creek property.
Request Information